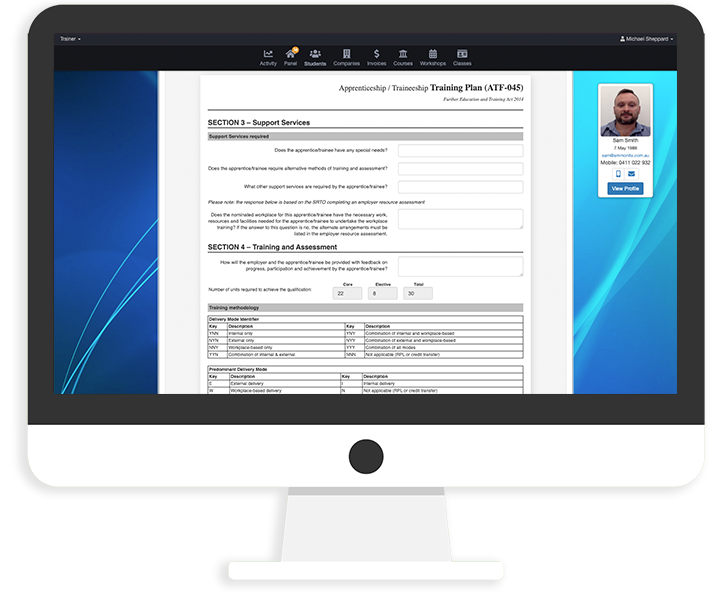 Training Plans
Ammonite can create customised training plans by placing dynamic fields onto any template PDF. Some of the Training Plans that have been built directly into the LMS include:
Queensland DESBT Training Plan (ATF-045) (shown at top of page)
New South Wales Training Plan (shown to the left)
Ammonite's VET compliant training plan makes light work of keeping your learners training on track and up to date. The training plan self-completes any relevant information about the learner, employer, and educator, course details, mode of delivery and so on automatically, greatly reducing the time needed to enter data into the document.

Features include:
Currency - your learners training plan is kept up-to-date to the second as they progress through their course. No need for scheduled reviews - your learners digital training plan will always be current.
Flexibility - Need to modify a learners course schedule, training dates etc.? Easy - simply make the changes and they are instantly reflected in the plan.
Signatures - Need a signature from a learner, employer, educator or all three? Just send them a link via SMS or email, from the Ammonite platform. The person can click on the link, review and sign the relevant document as required, and the document is updated in Ammonite automatically.
Snapshots - Available anytime you need to record a training plan. Take a snapshot, and a pdf copy of the training plan will be archived in Ammonite, ready to be downloaded anytime it is needed.
Templates - Ammonite has QLD and NSW training plan templates already built in the system ready to use. These templates exactly mirror the forms issued by the State's Training Authorities. Need another template? Contact us at Ammonite and we will create it, or you can create your own in the system.