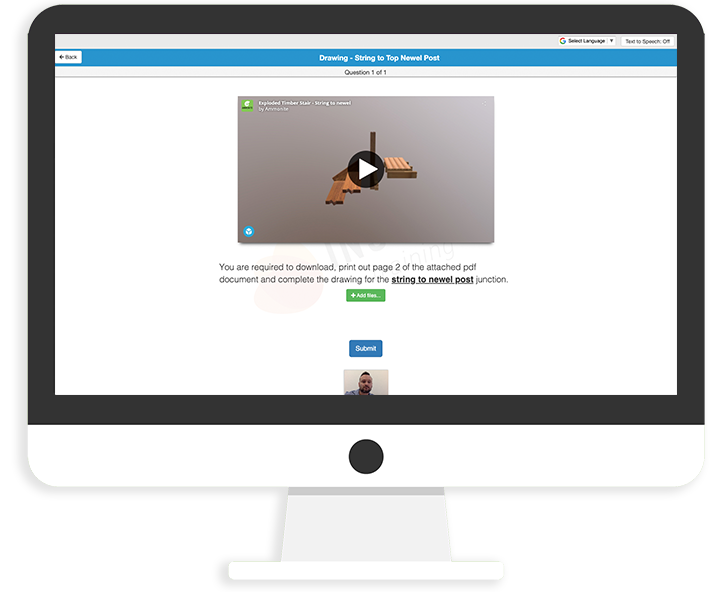 Learner Dashboard
Enrol, pay invoices, do quizzes, book workshops, track workplace activities and more.
Responsive design - works on any device
Workplace Activity Recorder - record and document practical activities on the job, simulated worksite, or classroom/workshop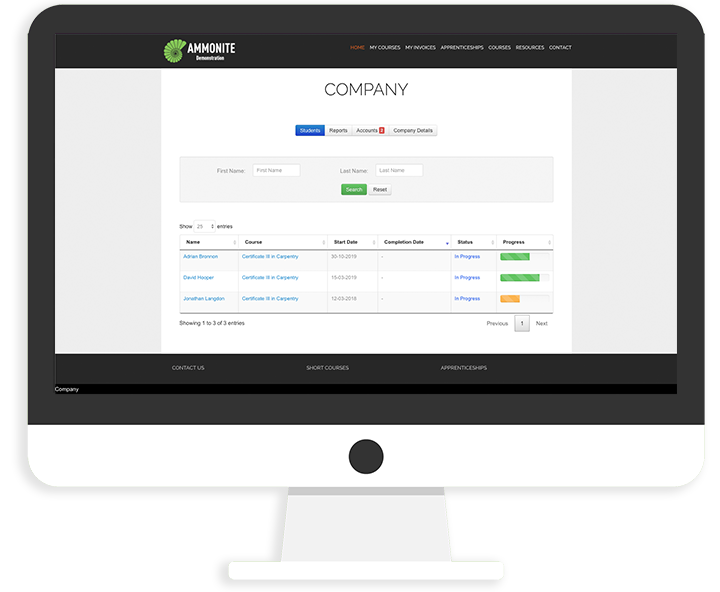 Employer Dashboard
Monitoring students
Tools designed for employers to monitor the training of their apprentices/staff.
Track learners
Access Certificates
Pay for courses
Sign documents such as Training Plans, Employer Resource Assessments (ERAs) and Third Party Reports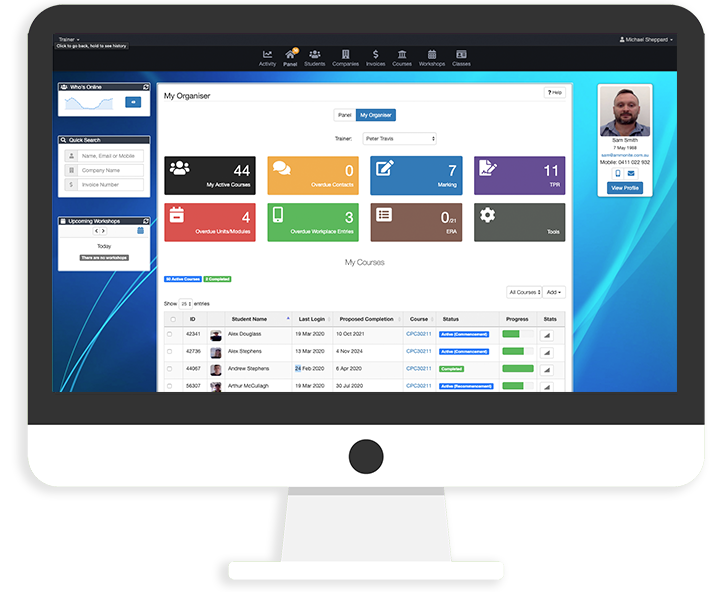 Educator Dashboard
Monitoring learners
Tools designed to enrol and setup learners, customise training plans, mark assessments, pay invoices and more.
Send SMS / MMS / Emails
Training Plans - eg DESBT and NSW Smart and Skilled
Payment gateways including Stripe, eWay, PayPal and Payway
ERAs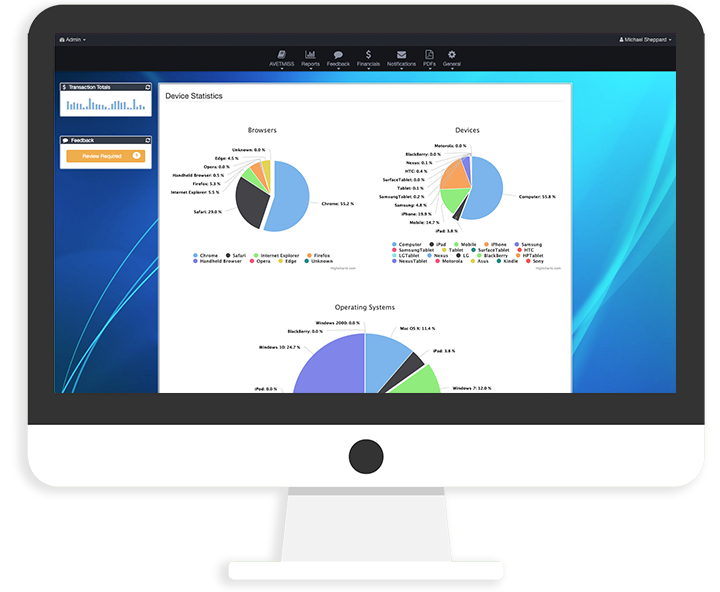 Admin Dashboard
Reporting - AVETMISS reporting, funding claims, Xero export, feedback reports (AQTF and more), design PDFs including certificates, setup email / SMS notifications and more!
AVETMISS reporting - NCVER, CSQ, DESBT, Smart and Skilled
Certificate customisation - create and customise certificates.
State funding claim importer
Xero export
AQTF learner and employer questionnaires
Feedback - including video feedback from learners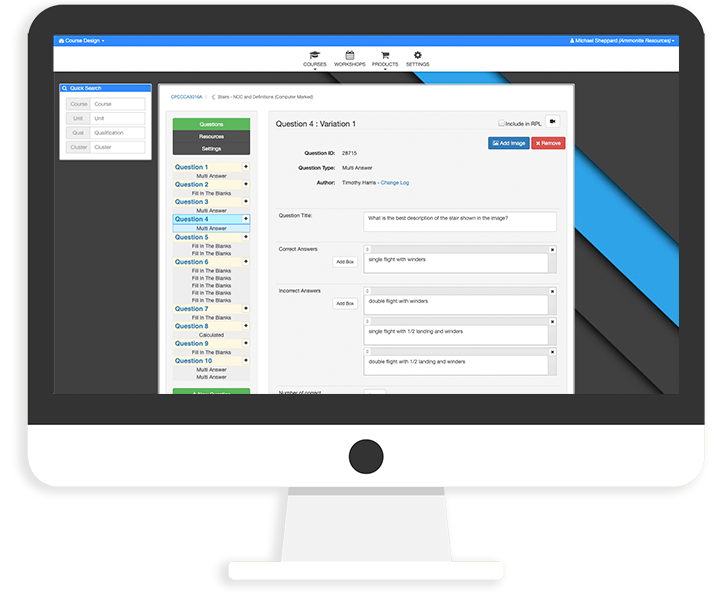 Course Design Dashboard
Create and setup courses, quizzes, workplace activities and workshops.
Computer marked question types including multi-choice, true / false, fill in the blanks, click in order, custom HTML
Trainer marked question types including video response, short answer, upload assessment, long answer, custom HTML
SCORM 1.2 compatible
LTI Provider and Consumer
Question mapping - map assessments to the unit of competency
Language, Literacy and Numeracy support and mapping to the ACSF levels 1-4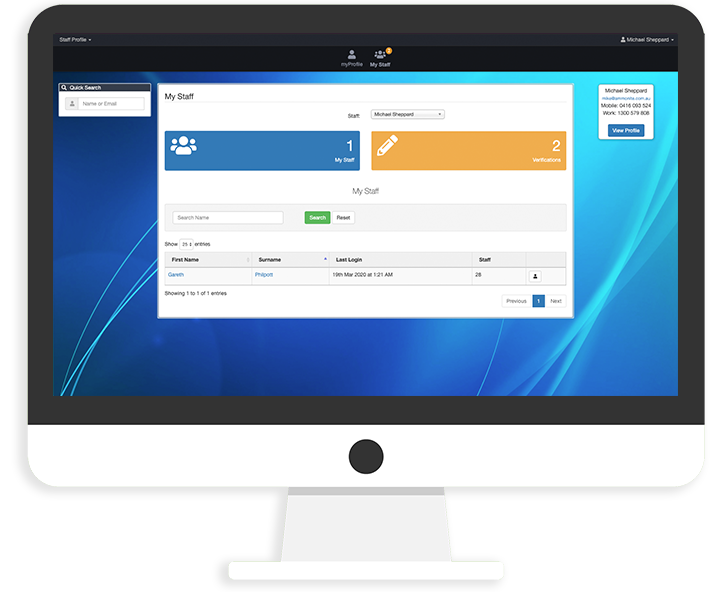 Staff Profile Dashboard
Allows educators to stay compliant by recording their competency and currency, backed up by powerful reporting.
Record vocational and teaching competencies
Record industry accreditations and licences
Track work history
Record vocational and teaching currency activities
Powerful vocational competency and currency mapping reports
Supervision agreements and individual plans
Reporting across teams, regions or the entire organisation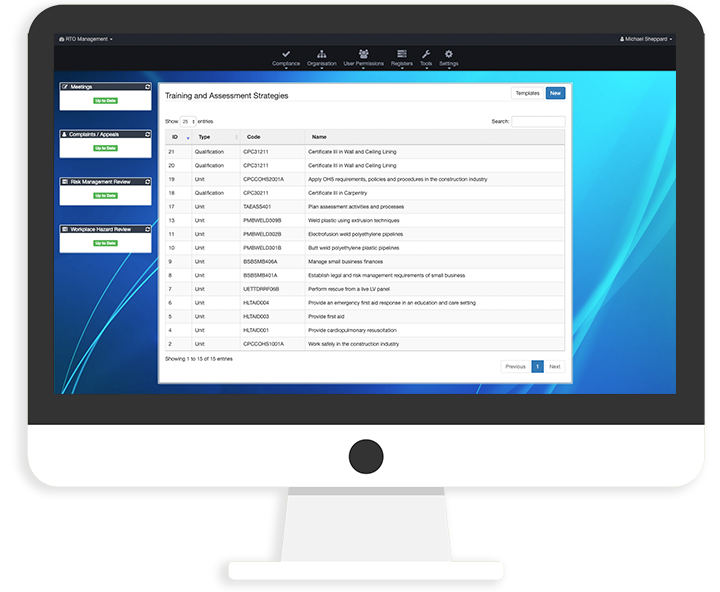 RTO Management Dashboard
Tools for managing your RTO and tracking your compliance items including registers and validations.
Training and Assessment Strategies (TAS)
Monitor and record standards for RTOs
Assessment validations
Industry validations
Manage meetings
Setup and manage branches
Permissions and roles
Registers - complaints and appeals, risk management, workplace hazards and workplace incidents
Settings - configure USI Auskey/RAM access